There are currently 75.4 million Millennials in the U.S.  They spend more than $65 billion each year and have an annual buying power of power of $200 billion, which makes them one of the most influential markets. As a result, marketing to Millennials is at the top of every business's priorities. 
But what sets Millennials apart from previous generations is the fact they're not as easily convinced.
Millennials can't be influenced by generic advertisements, and they know business can't always be trusted.
So how do you market to Millennials? In this article, we'll discuss 5 important tactics for marketing to this key demographic.
1. Write Relevant Content
Millennials are interested in reading content that can improve their lives. They scour websites for tips, e-books, tutorials,  and videos that can help them learn skills and life hacks. They also love to discover the opinions of influencers and experts. This is why creating informative videos and killer blog posts are so important. Millennials subscribe and return to websites that can help them find answers, and discover information that can make their lives better.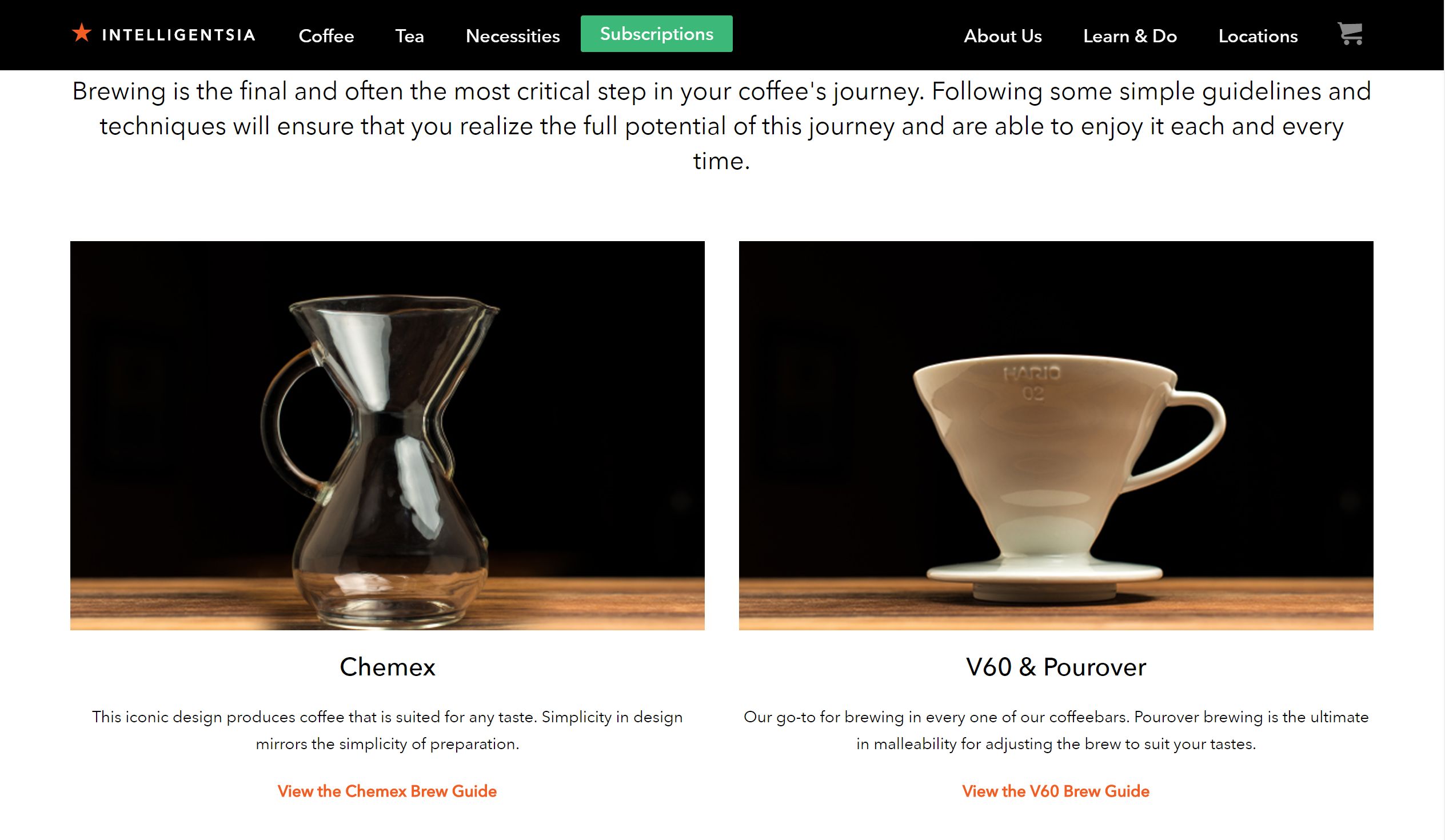 Intelligentsia is a coffee company that gets Millennial marketing right. Coffee consumers want to learn how to brew a good cup of coffee. Intelligentsia understood this, which is why they published brew guides with detailed instructions and high-quality photos. Not surprisingly, these guides have been widely shared on social media platforms.
Intelligentsia's example shows how creating relevant content can not only help spread the word about your brand, but also set yourself apart from your competitors.
2. Create a Referral Program
What would convince someone to buy from a brand?
The words of a friend or a sponsored video.
If you're like most people, you're likely to trust the words of your friends. In fact, 59% of Millennials said they're swayed by their friends' endorsements and recommendations, compared to other age groups. According to the same study, 28% of Millennials responded that they won't try products or services their friends do not approve of.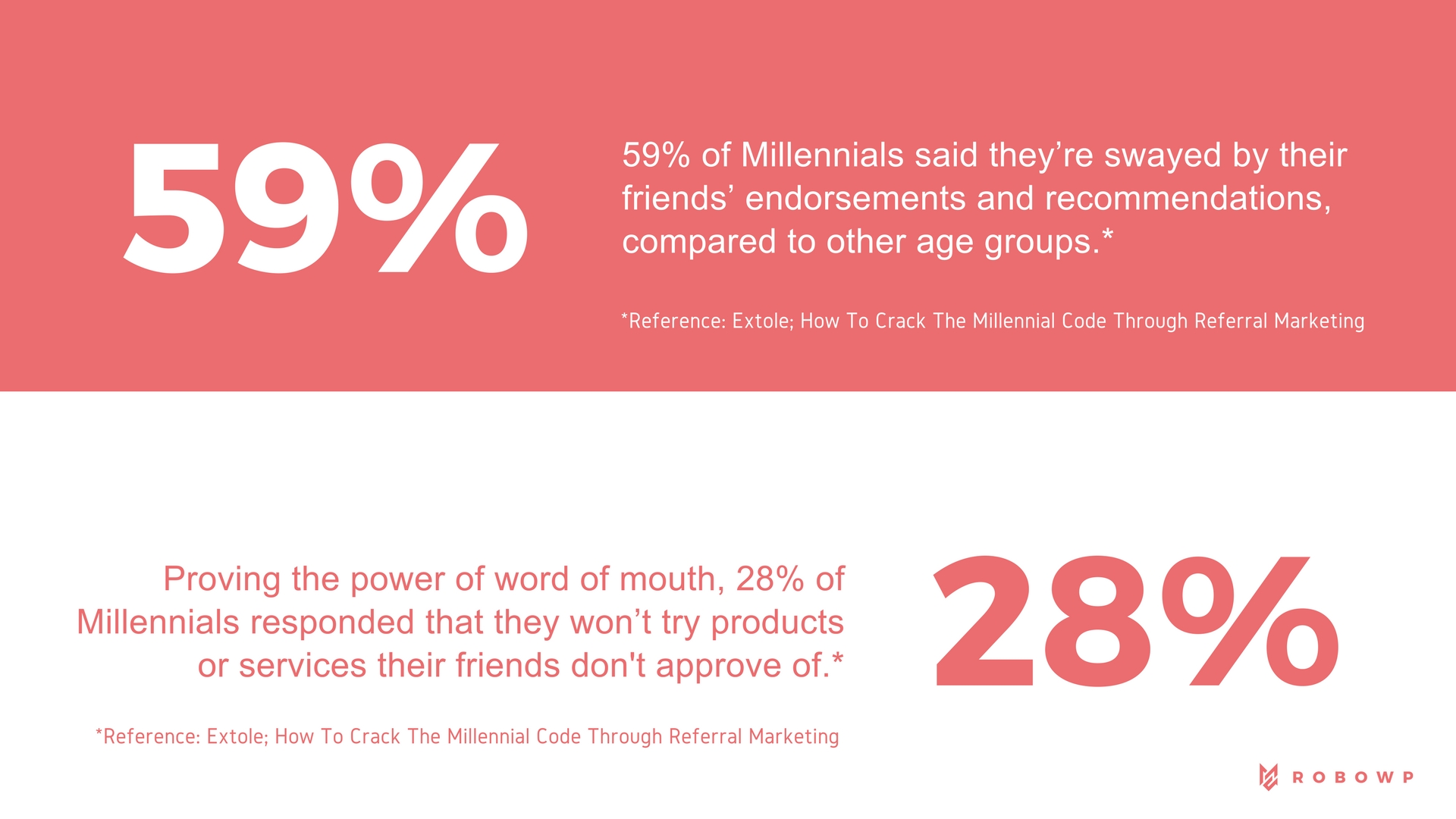 This trend speaks to the importance Millennials place on endorsements. They genuinely love to talk about the products and services that have helped them. By sharing their knowledge and experience, they hope to help their friends and family lead better lives and have positive experiences.
This is why referral marketing works. Millennials are wired to promote great experiences and products. Set up a referral program that rewards people who successfully promote your product to guaranteed the generation of conversions. After all, what's more encouraging than getting rewarded for promoting a product you love?
Missguided's referral program, which provides customers with $5 for getting their friends into the platform, is a great way to spread the word about your brand. It successfully speaks to Millennials because they trust their friends—and that'll encourage them to take a chance. Most young people know their real friends have their best interests in mind, which is why they're genuine advertisers.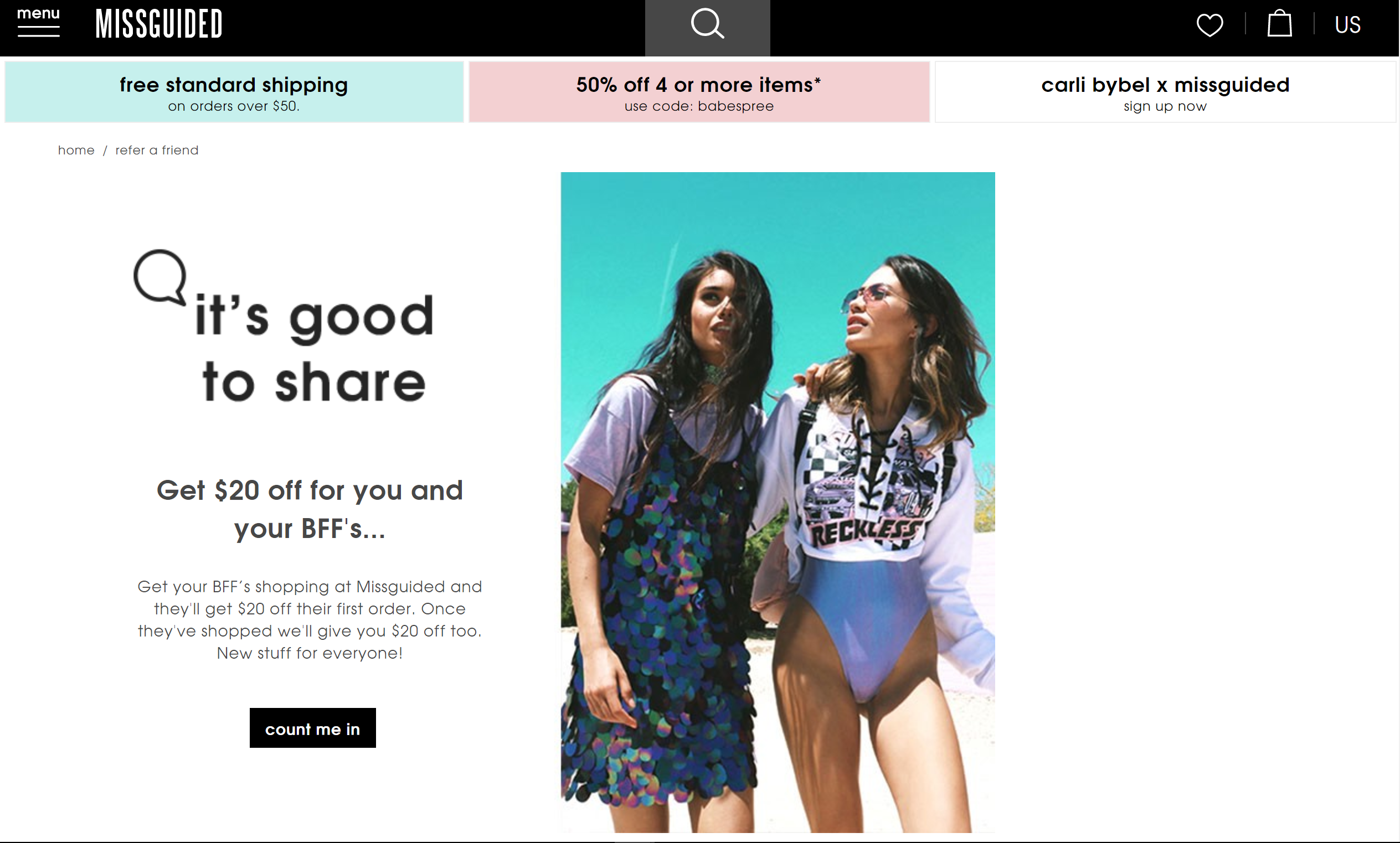 3. Create Interactive Social Videos
Millennials love interactive videos. Rather than pre-recorded videos, they want vlogs, live videos, and relatable personalities. They love online influencers like Bethany Mota, Karlie Kloss, and Felix Kjelberg. They want to know the products they love and watch their life experiences.
Facebook even launched Facebook Live to make it easy for Millennials to create vlogs and post them online. In fact, people spend an average of 3X more of their time watching Facebook live videos compared to a video that is no longer live.
Similarly, vloggers and content creators trigger approximately 97% of conversations for beauty brands. With those stats, it's clear Millennials are more likely to be influenced by vlogs on social networking sites.  
Benefit Cosmetics' live video series is an example of video marketing that comes across as engaging and relatable. These videos feature hosts who test various beauty products, while chatting with their audience about life, beauty, and makeup. These types of series empower Millennials as it allows them to get relevant information about a brand or product, before making a purchase.
4. Create Unique and Unforgettable Experiences
Millennials love experiences. In fact, a study by the Harris group found that 72% of Millennials would prefer an experience over a material item. Meaning they're more than willing to pay for good experiences.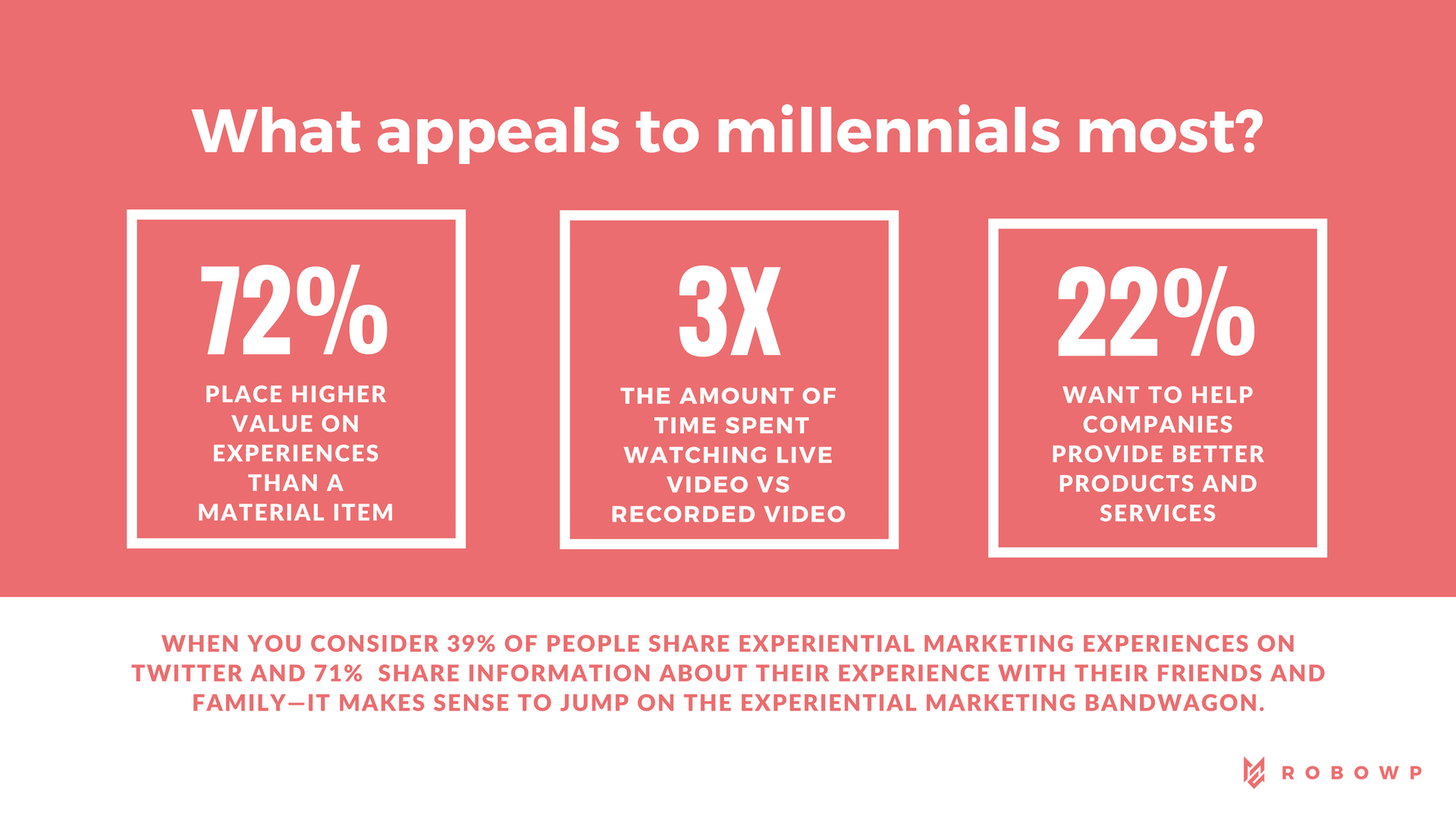 When this is case, your brand will  be on a Millennial's radar if they can associate a positive experience with it. This sounds like event marketing. Although, experiential marketing isn't just about hosting concerts, festivals, or conferences. Instead, it's the act of creating unique face-to-face branded experiences.
Pepsi leveraged experiential marketing in its Unbelievable campaign. The brand posted a digital screen on the side screen of the bus stop.  The  screen featured a live image of the street combined with animations such as spaceships flying in the sky and meteorites crashing to the ground. To a person sitting on the bus stop, it looked like these events were happening in real-time. But once they looked at the back of the screen, they discovered that it was a Pepsi prank.
This strategy helped Pepsi build a conversation about the brand on social media. When you consider that 39% of people share experiential marketing experiences on Twitter and 71%  share information about their experience with their friends and family—it makes sense to jump in the bandwagon.
5. Leverage User-Generated Content
According to Bazaar Voice, 64% of Millennials want more options to share their opinions about products. Not only that, but they trust user generated content more than other forms of media. They post their favorite products and services online because they want to express themselves and share their experiences.
They're also searching, commenting, liking, sharing, and pinning user-generated posts from other users. So, what makes this type of content resonate with this age group?
Millennials want to be involved with the products they love. In fact, 22% of Millennials say they're interested in helping companies provide better products and services.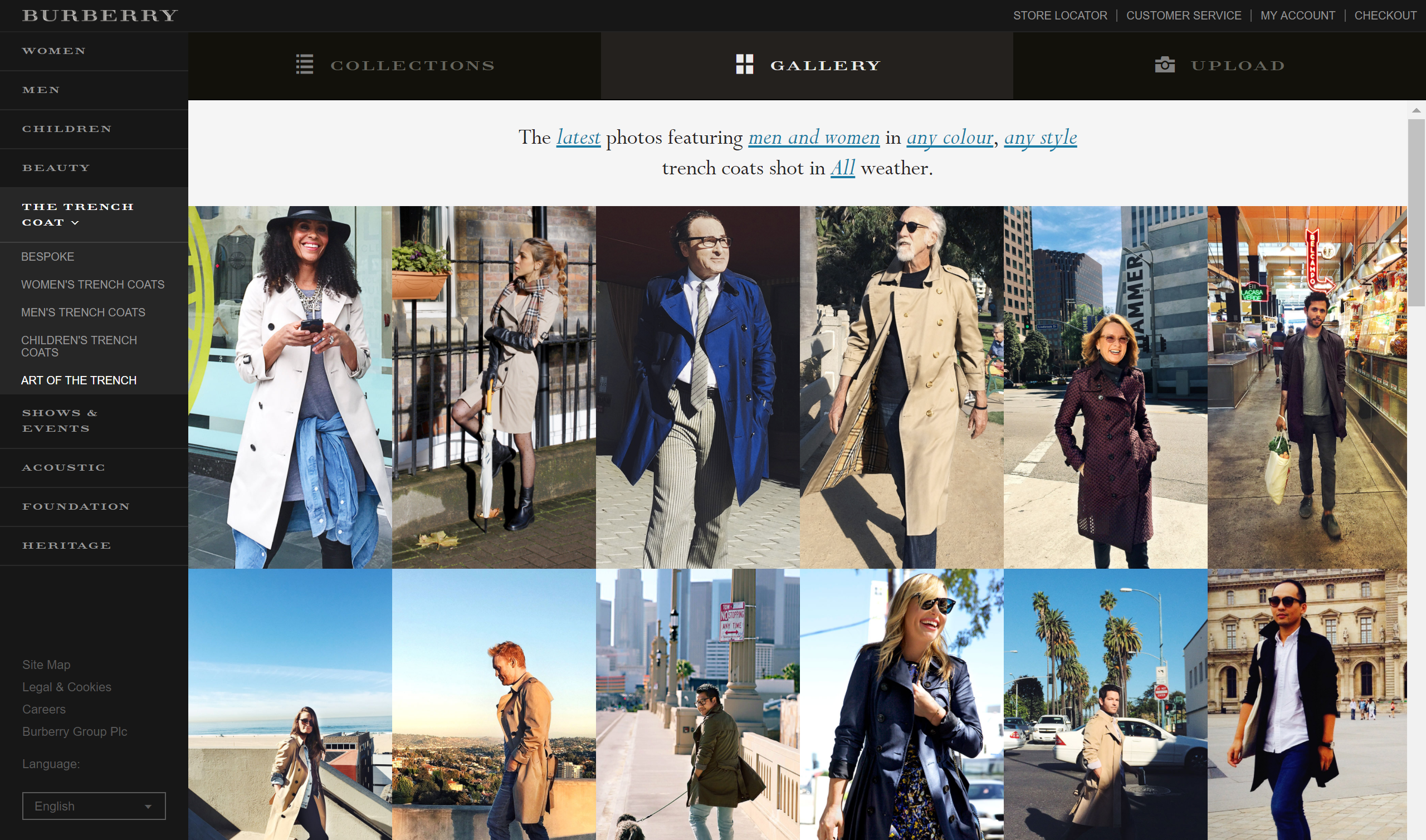 Burberry successfully speaks to Millennials with their Art of the Trench campaign. The brand created an exclusive social media platform where consumers could upload their photos wearing Burberry trench coats. Users who posted received 15 minutes of fame on the site's main page. In addition, these images could be curated  by trench type, color, gender, weather or popularity; which enabled users to see how the product looked before they made a purchase.
How Your Business Should Be Marketing to Millennials
When it comes to Millennial marketing, engagement is key.
Set up your own referral program and post user-generated content on social media. When brainstorming your blog posts, think about how your content is relevant to Millennials. The bottom line is creativity. Millennials love unique and original marketing campaigns. And when you succeed, you might even go viral.